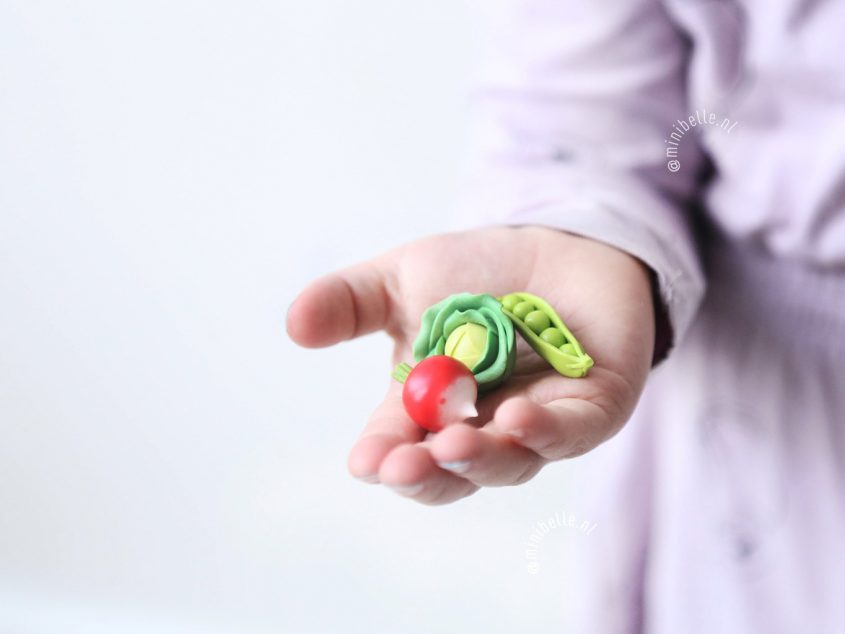 Dit houten kistje vol met mini groenten en fruit van Vegefruits biedt zoveel speelmogelijkheden! Voorzien van de kleinste realistische details maken ze veel indruk op kinderen én volwassenen.
Nederlandse versie:
Met dit aankopen wordt elke dag gespeeld. De groenten en fruit zijn werkelijk om op te eten en bieden veel speelplezier en mogelijkheden om de fantasie te uiten en natuurlijk om te leren tellen, sorteren op kleur en vormen ontdekken. Daarnaast bevordert het de kleine motoriek, waaronder het gebruik van de pincetgreep bij oppakken. Het is ook goed te combineren met kineticzand of klei. Laat je fantasie de vrije loop gaan en bedenk met jouw kind diverse spelletjes waaronder natuurlijk winkeltje spelen. Als stimulans kan het goed zijn voor de kinderen die minder groenten of fruit lusten/willen. Het speelgoed is gemaakt van polymeerklei en wordt keihard na diverse productiehandelingen. Omdat het niet heel groot is, is het niet geschikt voor baby's en bij kleine kinderen moet met toezicht worden gespeeld.
Een basis-kistje kost €70.00 en bestaat uit 40 items van groenten en fruit en kan naar wens worden uitgebreid. De houten deksel van het doosje kan ook gepersonaliseerd worden met de naam of bijvoorbeeld de geboortedatum van jouw kind. Een uniek en ook nog eens een leerzaam cadeau!
Vegefruits is te bestellen via prive bericht op hun Instagram account en ze verzenden wereldwijd.
---
English version:
This wooden box full of mini fruit and vegetables from Vegefruits offers so many play possibilities! Featuring the smallest realistic details, they make a big impression on children and adults. They offer lots of fun and opportunities to express imagination and of course to learn to count, sorting, explore colors and shapes. In addition, it promotes fine motor skills. It also combines well with kinetic sand or clay. Let your imagination run wild! As an incentive, it may be good for children weighing less fruit or vegetable appetites. The toys are made of polymer clay and hard after several production operations. Because it is not very large, it is not suitable for babies and small children must be played with supervision.
A basic box costs €70.00 and includes 40 items of fruits and vegetables and can be extended as desired. The wooden lid of the box can also be personalized with the name or for example the date of birth of your child. A unique gift!
Vegefruits can be ordered via private message on their Instagram account and they ship worldwide.
---
Praktische informatie:
Jurkje en sokken van Belle Iglo+Indi shop je hier
Shorts van Lotus My Sweet Potato shop je hier
Credits: fotografie ©minibelle.nl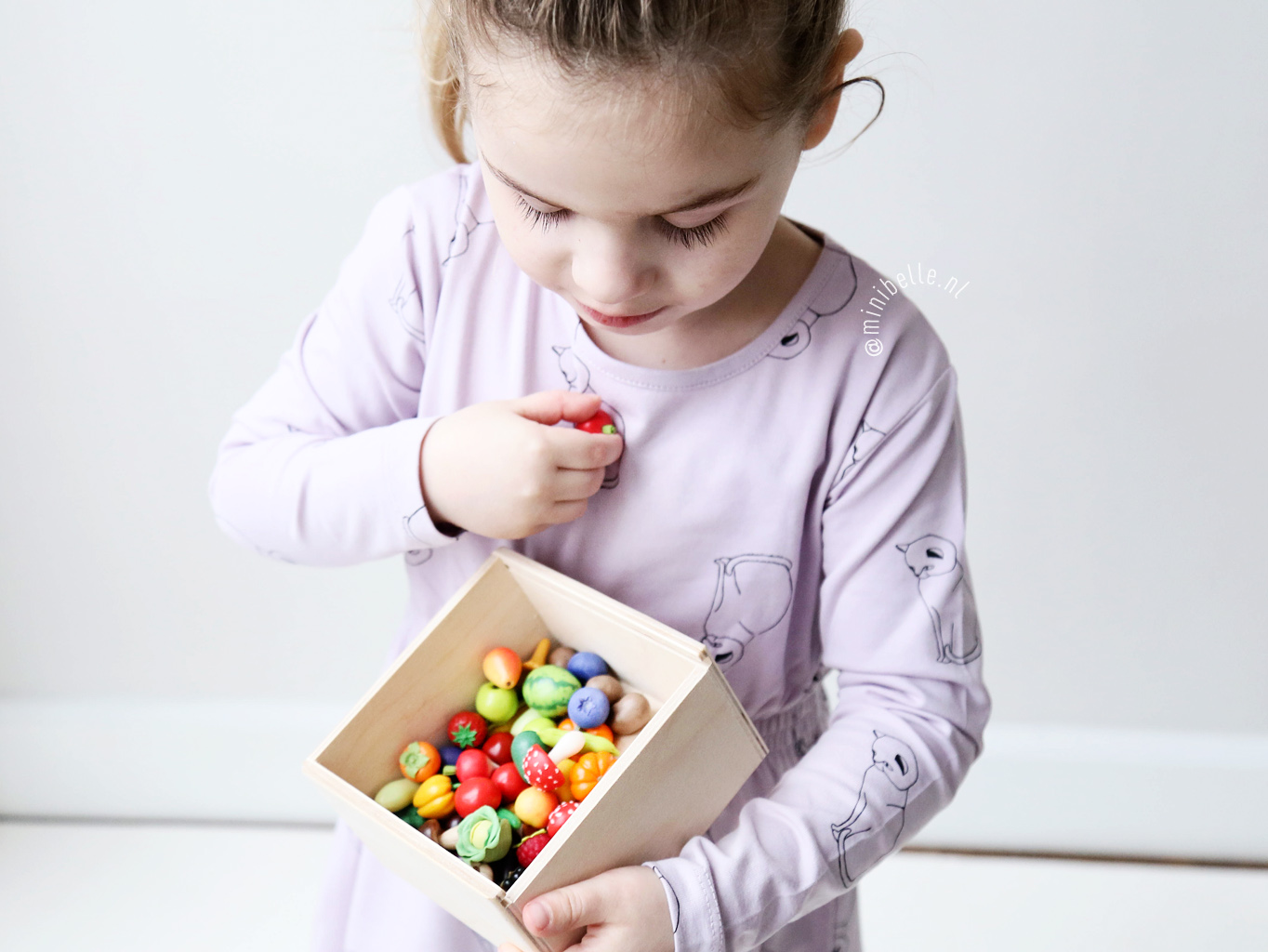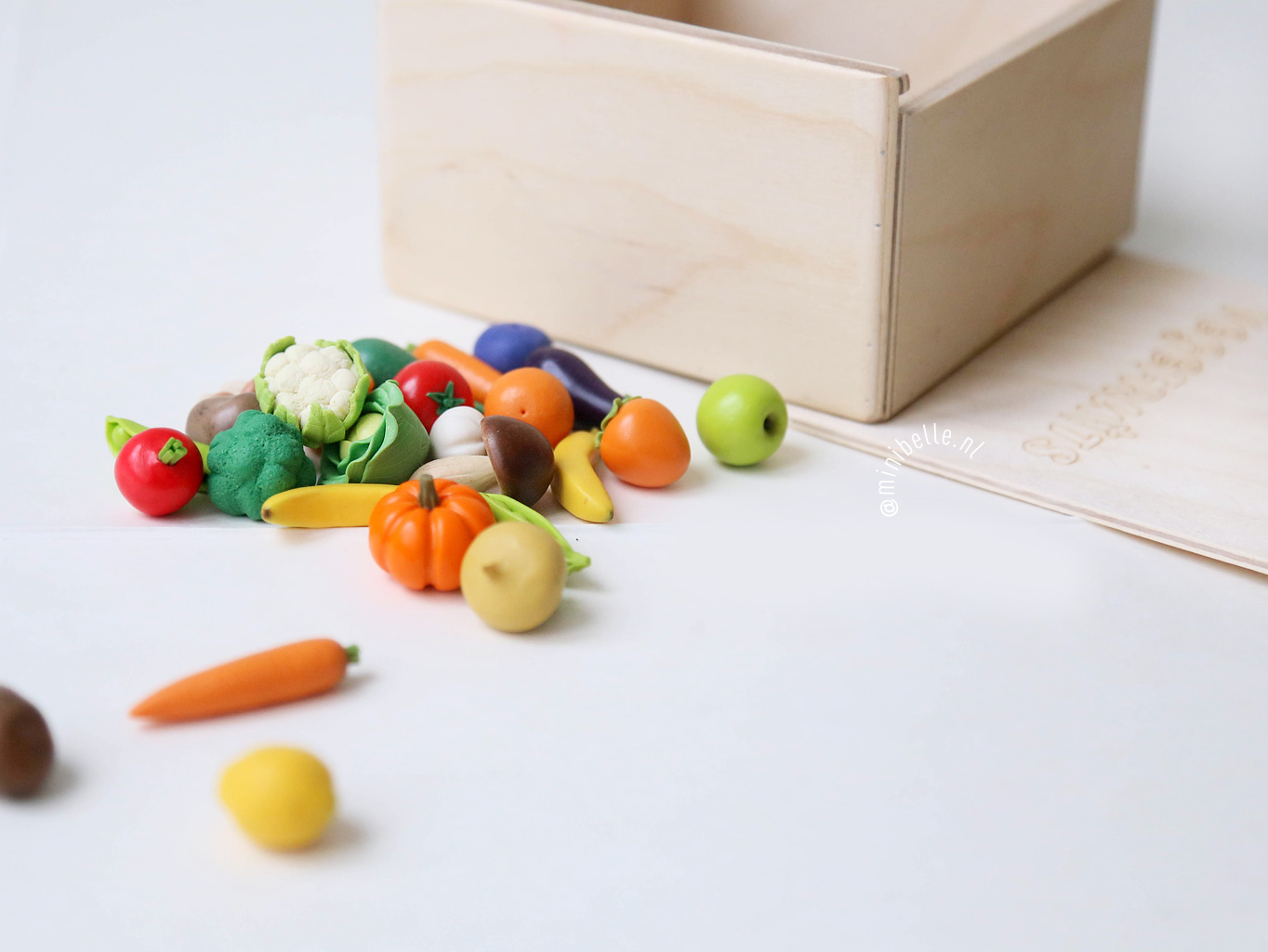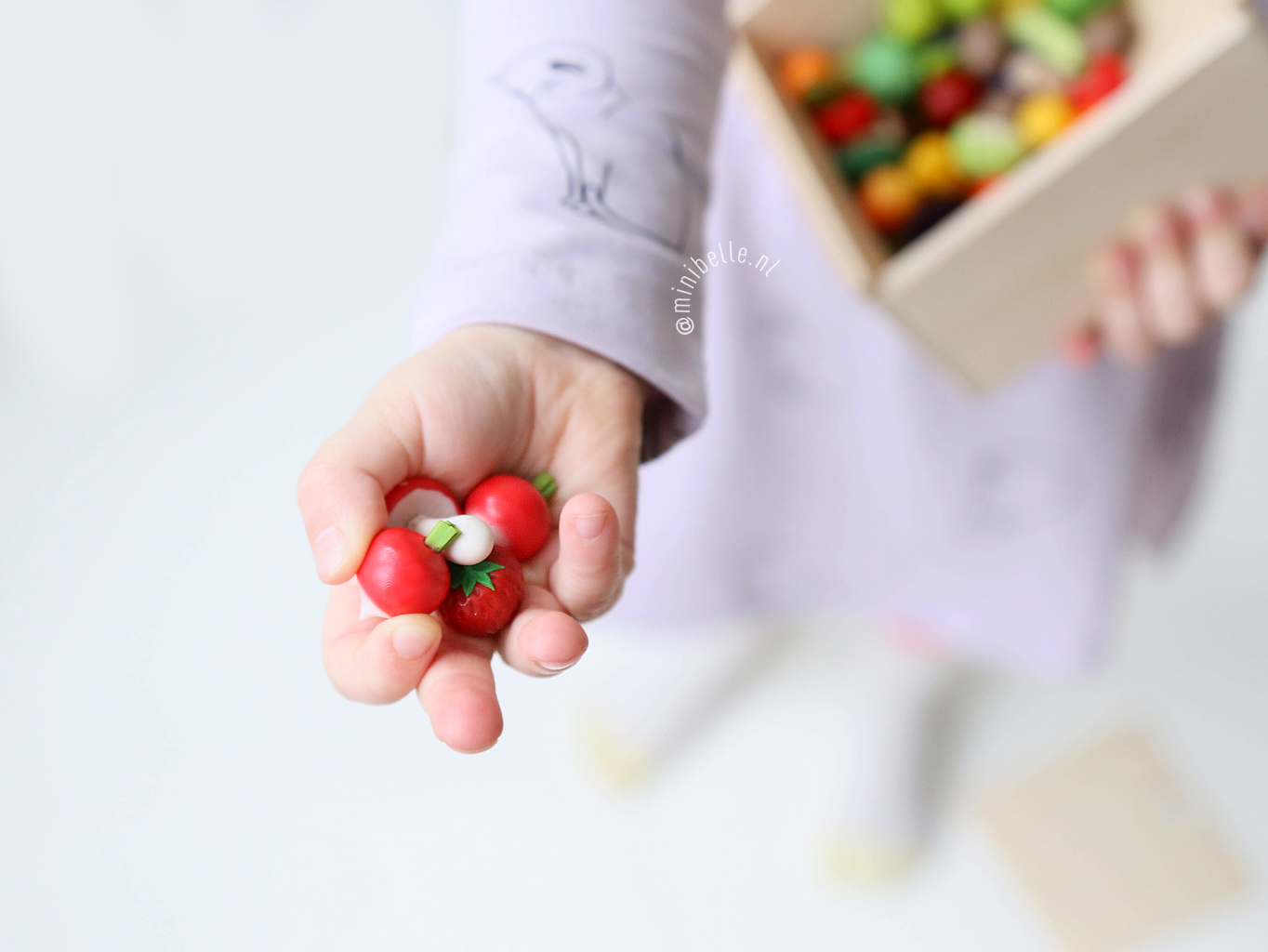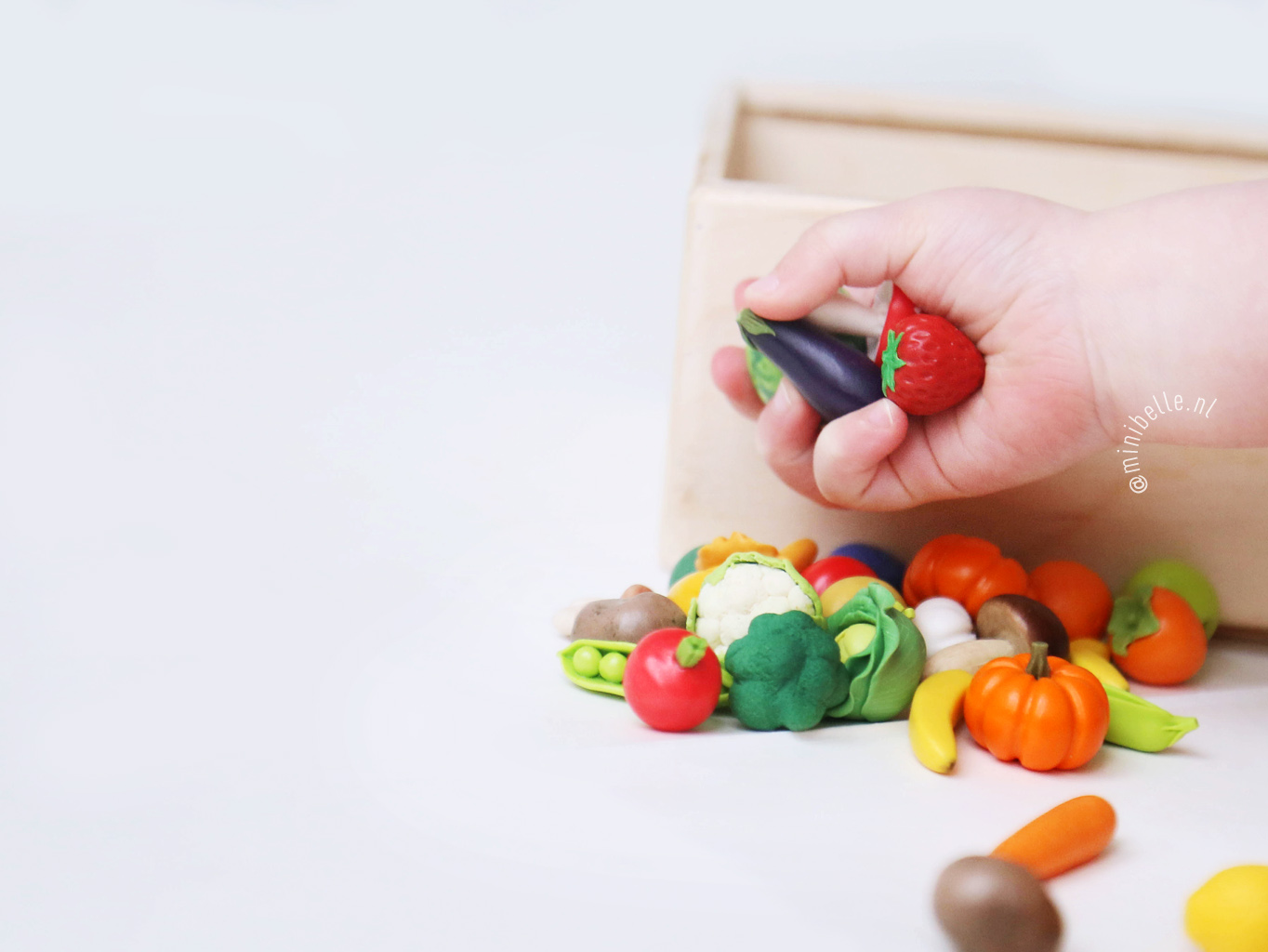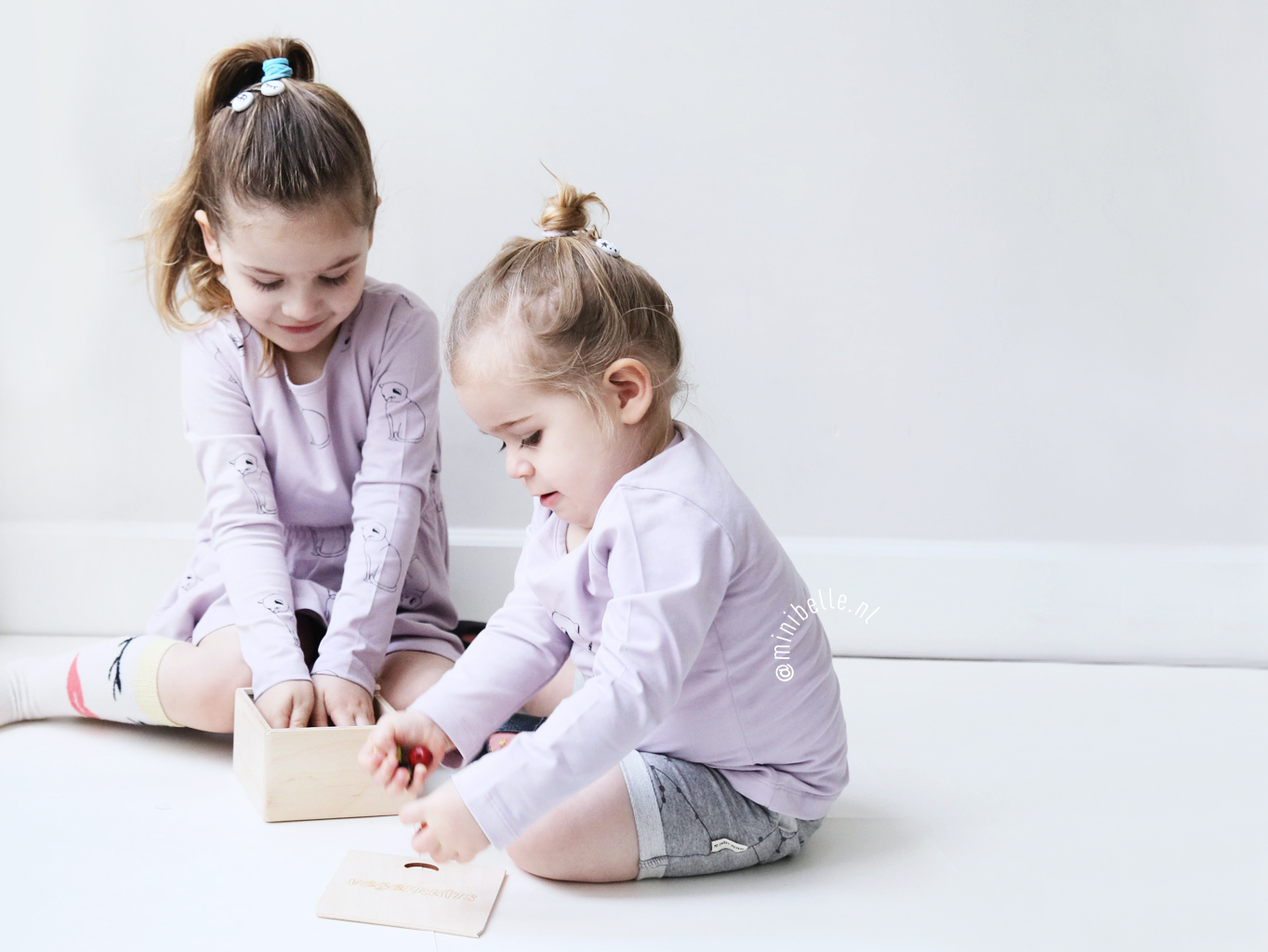 Fotos van @minibelle.nl is in licentie gegeven volgens een Creative Commons Naamsvermelding-NietCommercieel-GeenAfgeleideWerken 4.0 Internationaal-licentie.